Jacky Li, a marketing graduate from the School of Administrative Studies (SAS), received the Young Marketing Achiever Kotler Award at the World Marketing Summit in November. This award recognized his excellence, creativity and initiative in sales & marketing, as well as his roles mentoring other young marketers personally and professionally.
Li is the first recipient of this award, and he was nominated by York Professor Pallavi Sodhi from SAS.
"The creation of this award was critical. The Kotler Impact awards have always recognized marketing achievers in all categories except for young marketers, and it was important to encourage the marketers of tomorrow by recognizing accomplishments at a young age because they are huge contributions to our society," said Sodhi.
Jacky Li graduated from the Bachelor of Commerce (BCom) program in June 2014 and has stayed connected with the York community ever since. In addition to his full-time work Li has been a teaching assistant in SAS, hosted guest lectures, led workshops and provides mentorship and support to 4th year marketing students. Outside of York, Li has led workshops and guest lectures at McMaster University and has contributed to Canada's Next Ad Exec and MARS Apprentice.
"My biggest accomplishment has always been giving back to the marketing community and I feel honoured and humbled to receive this award," said Li.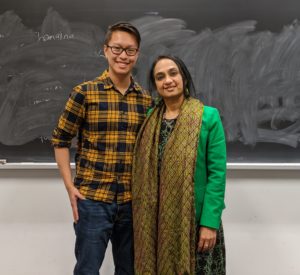 Prof. Sodhi taught Jacky in 2013 and recognized his ability to be a strategic thinker in marketing right away.
"Jacky symbolizes what it means to be a budding marketer who brings the best of what he learned in the classroom over to the business community. His approach and his desire to give back is creating a better world through marketing," said Sodhi.
According to Li, marketing is one of the most interesting fields because it ties business and psychology together. He plans to continue giving back to the community through mentorship roles, which he believes contributed to his own successes.
"I have been fortunate enough to have a strong support system of great colleagues, bosses and mentors, especially Prof. Sodhi, who has been my biggest advocate and supporter since the very beginning!"