With the partnership and collaboration of professors Adriano O. Solis and Ali Asgary from the School of Administrative Studies, the Vaughan Fire & Rescue Service (VFRS) has received bronze at the 2019 Institute of Public Administration of Canada (IPAC) Innovative Management Awards for the "Igniting Insight: Using GIS and Analytics in the Fire Service" project.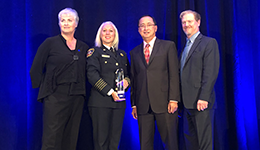 The award was presented on August 20, 2019 at IPAC's 71st Annual Conference "Public Sector Transformation: Action and Meaningful Change" in Winnipeg.
This project first began in 2017, when a team from the Advanced Disaster, Emergency and Rapid-response Simulation (ADERSIM) program at York University, led by professors Solis and Asgary, received a grant from the Canadian Association of Fire Chiefs to develop a fire response simulation test bench using the National Fire Information Database of Canada.
Over the last two years, the project has brought together colleagues from the VFRS, Universidad Autónoma del Estado de México, the University of Calabria and the University of Genoa. Together they sought to develop a modeling and simulation tool that can be used to examine performances of fire and rescue services and provide solutions for optimum allocation and use of resources.
As a result of the collaboration, VFRS was better able to evaluate community emergencies, examine current emergency response performances, conduct scenario analysis of additional fire suppression resources and the reallocation of existing fire stations and firefighting crews using agent-based simulations and predictive analysis. The modeling and simulation approach can be applied by other cities, communities and fire departments.
Fire Chief Deryn Rizzi expressed gratitude for the vital contributions that professors Solis and Asgary made.  "The entire team deserves kudos for their professionalism and innovation in the pursuit of better outcomes.  We are thankful for their efforts and look forward to their continued participation in future endeavors," Rizzi said.
Professor Solis was pleased to partake in the collaboration and was in attendance for the award ceremony in Winnipeg. "Our active collaboration in this project exemplifies community engagement of York professors by way of relevant, applied research. It has been truly delightful for both Professor Asgary and I to be able to apply our expertise in modeling and simulation in an effective and truly meaningful way," Solis said.
Watch this YouTube video to learn more about the Igniting Insight project.