Featured Report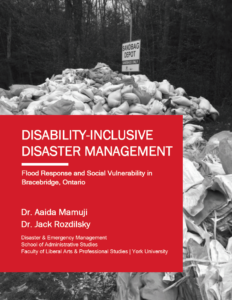 Disability Inclusive Disaster Management: Flood Response and Social Vulnerability in Bracebridge, Ontario.
Dr. Jack Rozdilsky
Dr. Aaida Mamuji
Technical Reports
Dr. Jack Rozdilsky and Dr. Aaida Mamuji | Kamloops as Host City: 2017 Wildfires in British Columbia: Response-generated demands in the city of Kamloops (PDF)
MDEM Students | Major Research Papers
Barlu Dumbuya | Vehicle Weaponization: A Social Media Analysis of the 2018 Toronto Vehicle Ramming Attack | 2020 (PDF)
Dila Jeyapalan | Perspectives on the opioid epidemic in Southern Ontario: Can the opioid epidemic be managed by practices within Emergency Management? | 2019 (PDF)
Younus Imam | Developing localized strategies to improve resiliency and security of mosques in the Greater Toronto Area | 2018 (PDF)
Maryam Shafiei Sabet | Spatial and Temporal Analyses of Emergency Calls Responded by the City of Vaughan Fire and Rescue Service during the 2013 Ice Storm | 2018 (PDF)
Hurania Melgar | The Gender Landscape of Canada's Non-Profit Disaster Response Sector | 2017 (PDF)
Marcin Lewandowski | Risk Assessment of the Timber Supply Chain in Southern Ontario using Agent-Based Simulation | 2016 (PDF)
Lauren Hebert | The Concerns of Ontario Elementary School Teachers on School-Based Emergencies and Emergency Preparedness | 2016 (PDF)
If you would like your MRP to be featured on this page, please send a copy to mdemgpa@yorku.ca.