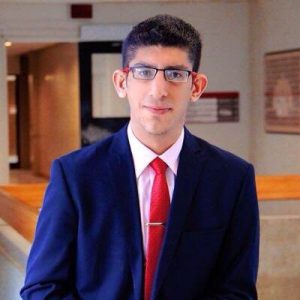 The School of Administrative Studies has much to be proud of – including its many talented students and graduates. Among our outstanding graduates of 2017 is  Alamgir (Alam) Khandwala a graduate in the Accounting stream who was the recent recipient of no less than 5 York University-based awards. The nature of these awards, as described below, speaks volumes about Alam's character and citizenship behavior.
Robert J Tiffin Award for Student Leadership is given to those students who demonstrate both strong academic standing in addition to leadership that contributes to the growth, development, and vitality of York University.
Alumni Golden GRADitude Award expresses York's gratitude to a graduating student who has made the University a better place through leadership involvement in such areas as student government, academics and research.
Award for Outstanding Global Engagement is awarded to students who have engaged in an impressive range of international activities and global citizenship behaviour.
LAPS Outstanding Leadership Award honours student leaders in the Faculty of Liberal Arts and Professional Studies for outstanding achievement in enhancing the quality of the undergraduate student experience through leadership, commitment and innovation.
Marilyn Lambert-Drache Award for Initiative in Governance recognizes members of the Student Council of Liberal Arts and Professional Studies (SCOLAPS) whose work in governance and in advancing the interests of SCOLAPS displays a commitment to lead and to find new and innovative ways to strengthen SCOLAPS.
The School of Administrative Studies congratulates Alam for his truly exceptional record of achievements. We also express our sincerest gratitude for his immense contributions to our school, to our faculty and to our university. We wish him much success in his very bright future ahead!